Restaurants & Bars
Savor unlimited food and beverages—including alcoholic drinks—from a range of restaurants, bars, and lounges at the all inclusive Hyatt Ziva Rose Hall. Indulge at locations on the beach and by the pool, or order directly to your room with 24-hour room service. The resort is happy to accommodate special dietary needs and restrictions, so please let our staff know.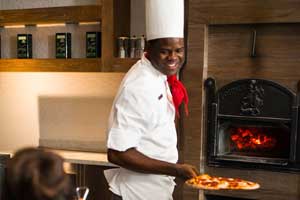 Di RoZa
Italian Restaurant
Di RoZa serves traditional Italian cuisine, including homemade pasta and authentic wood-fired pizza, made from the finest and freshest ingredients. Peruse our extensive wine list at this Hyatt Ziva Rose Hall gem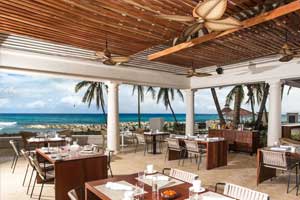 Blue Grill
CalypZo
CalypZo is a beachfront grill house serving up fresh seafood at Hyatt Ziva Rose Hall. Blue Grill at CalypZo dinner includes local specialties such as curry seafood and marinated shrimp salad.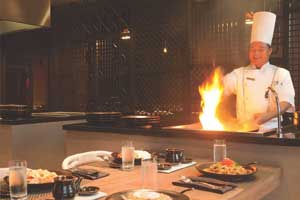 FuZion
Asian Grill
Here, modern Asian cuisine is prepared with surprising ingredients in innovative styles that include teppanyaki grill stations allowing skilled chefs to show off their abilities to the delight of all. Fuzion specialties include Vietnamese summer rolls, beef pad Thai and green curry chicken, plus a separate menu offered for children.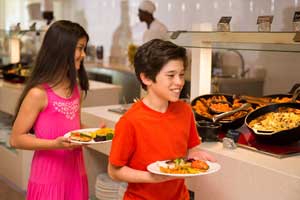 ChoiceZ
Buffet Restaurant
ChoiceZ at Hyatt Ziva Rose Hall offers a smorgasbord of international flavors in hot and cold buffets with live cooking stations and themed buffet dinners changing nightly.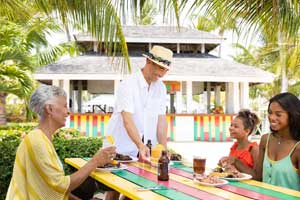 Barefoot
JerkZ
Discover traditional Italian cuisine, upscale service and an inviting ambiance at Lorenzo's, where you'll dine on trattoria-style favorites for lunch and elegant ristorante dishes for dinner. You'll enjoy our casually elegant surroundings, complete with a distinctive wood burning stove and unique lighting.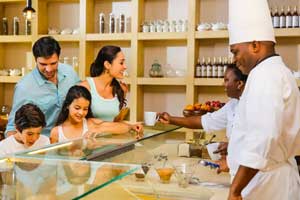 BiteZ
Deli & Café
BiteZ is a casual café serving Jamaican coffee and sweet treats located in the Hyatt Ziva Rose Hall Village. Pastries, ice creams, freshly baked cookies, and homemade desserts are available from the grab-and-go counter. BiteZ also serves tea, freshly squeezed juices, soft drinks, and non-alcoholic beverages.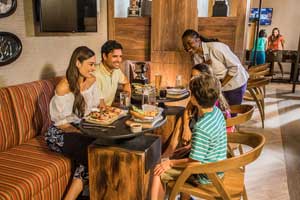 Union Jack'Z
Pub
Union Jack'Z serves tavern food and a variety of international beers and global spirits in a fun sports pub environment. Watch the game on one of the big-screen TVs. Enjoy English pub specialties like fish and chips. After hours, Union Jack'Z is your entertainment hotspot with live DJs spinning a dance party until 2 a.m.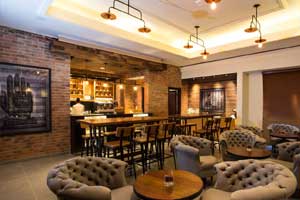 GrindZ
Coffee Bar
GrindZ serves fresh-brewed Jamaican coffee in a cozy coffeehouse near the lobby at Hyatt Ziva Rose Hall. The coffee bar also serves delicious pastries and snacks, including sandwiches, salads, fruit, cookies, and a selection of homemade desserts.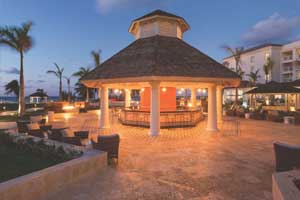 ShakerZ
Outdoor Bar
The circular bar at ShakerZ offers a casual outdoor ambiance with comfortable lounge sofas, fire pits, and views of the beach and ocean. Mixologists craft signature cocktails with fresh island juices and Jamaican rum, and the menu features refreshing cold beer, wine, and sangria.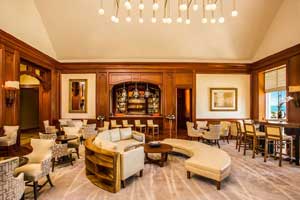 StirZ
Piano Bar
This welcoming gathering spot serves signature cocktails and drinks with a side of relaxing piano music in the lobby of Hyatt Ziva Rose Hall.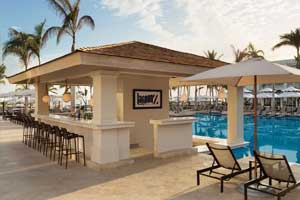 LagoonZ
Swim-Up Bar
Get a taste of the real Mexico at our tequila bar – Juana Margarita, awarded Best All-Inclusive Resort Bar by Islands. More than just a place for drinks, this casual bar offers tequila tastings, hand-crafted cocktails featuring the finest in Mexican tequila and a knowledgeable Tequilier on hand to teach you everything you want to know about the finer points of Mexico's most famous libation.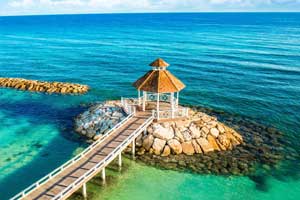 Premium Private Dining
Hyatt Ziva Rose Hall offers special private dining opportunities to enhance your stay. Celebrate a special night with a private candlelit dinner on the beach or at one of the gazebos. You can also select to reserve one of our private dining rooms located in Di RoZa or Fuzion. Contact the concierge to arrange your private dining experience, available at an additional cost.